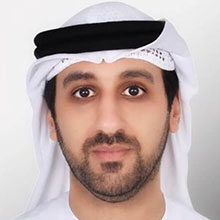 Ahmed Al Qasimi was nominated as the Executive Director of Hedayah, the International Center of Excellence for Countering Extremism and Violent Extremism.


Mr. Al Qasimi brings significant public sector experience to this position, including almost a decade of service in the U.A.E. Ministry of Foreign Affairs and International Cooperation, where he worked in a variety of settings prior to joining Hedayah. At the Ministry of Foreign Affairs and International Cooperation, Mr. Al Qasimi most recently served as the Deputy Director of International Security Cooperation from 2017 to 2019. He also served as an acting Council General in the UAE consulate in Houston Texas, and for several years at the UAE Permanent Mission to the United Nations in New York. In that capacity, he regularly engaged with the UN Security Council, and actively participated in debates related to UN Security Council as well as provide insights a key Security Council resolutions one of which was, Resolution 2178 on the flow of foreign terrorist fighters adopted at the Security Council by the President of the United States in 2014.

He was also heavily invested in discussions involving the UN Secretary-General's Plan of Action to Counter Violent Extremism. Prior to this, Mr. Al Qasimi served as an analyst in the Ministry's Policy Planning Department from 2010 to 2014, following peace and security issues regionally and globally. During his time in the Policy Planning department he led efforts with global stakeholders towards establishing the Syria Recovery Trust Fund, a multi-donor fund that was established to help rebuild Syria.

Mr. Al Qasimi's current research interests include global violent extremism, terrorism, and strategies to prevent violent extremism in fragile states. He is particularly interested in understanding the threats and challenges posed by the online indoctrination of young people into violent extremist ideology.

He graduated from the American University of Sharjah with a B.A. in International Relations. He has a M.A. in Diplomacy and International Affairs from Zayed University in Abu Dhabi which he completed with Distinction, and has taken postgraduate courses at New York University's College of Law in New York City, which he completed with honors. He is fluent in Arabic and English.