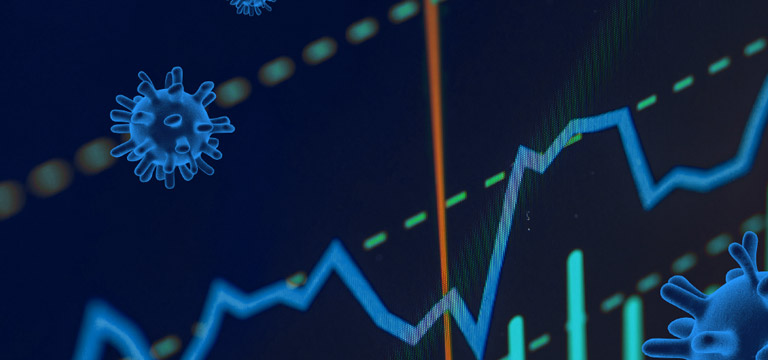 RESEARCH PROGRAM
The Reshaping of the Terrorist and Extremist Landscape in a Post Pandemic World
A major research program investigating the impact of COVID-19 on terrorist and extremist narratives.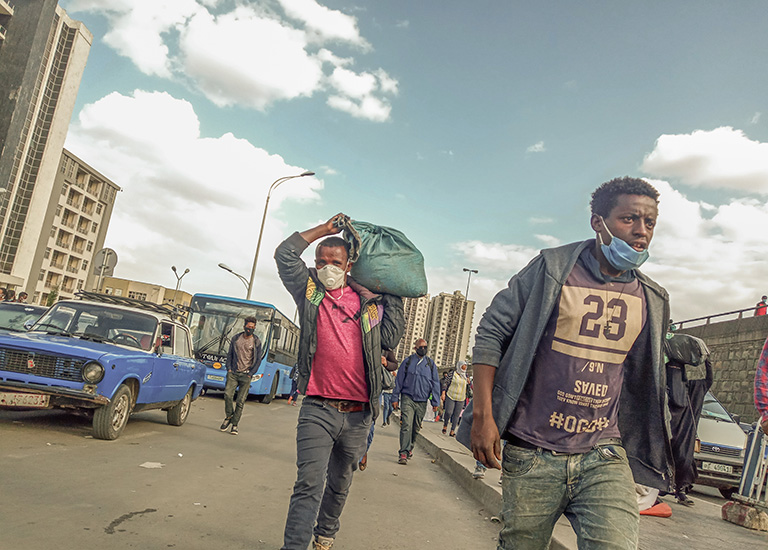 Regions
East Africa
COVID-19 has claimed upwards of 250,000 lives across Africa. During the pandemic crisis, "violent extremists have been able to exploit deteriorating security, social, and economic circumstances to gain further support for their ideologies." Insights from over 100 interviews across East Africa, including the Horn, illustrate the varied impact of COVID-19 on terrorism and violent extremism amid escalating attacks in the region.
Choose which year of analysis to view via the slider below: 2021 or 2020.
Region Summary | Choose Year
This report presents the research findings on the impact of the COVID-19 pandemic on terrorism and violent extremism in East Africa, including the Horn of Africa region, between January and December 2021. Countries within the scope include Tanzania, Kenya, Somalia, Uganda, Ethiopia, and Eritrea. Violent extremist organizations and terrorist groups have exploited the COVID-19 pandemic by changing their narratives within the East and the Horn of Africa. Anti-vaccination narratives are the most popular and have appeared throughout the later stages of the pandemic. One of the primary groups creating and disseminating these narratives is Al-Shabaab in Somalia, which is against the AstraZeneca vaccination but not all vaccines.1
Examples of extremist narratives and propoganda in East Africa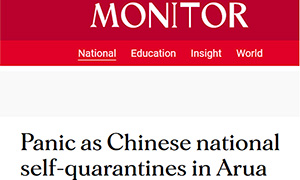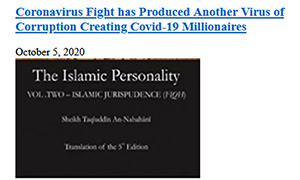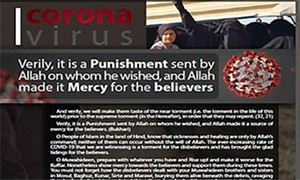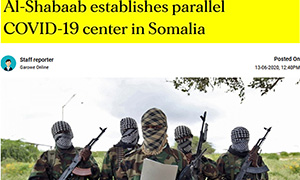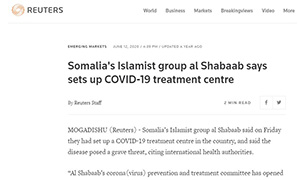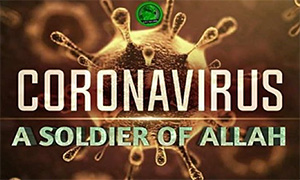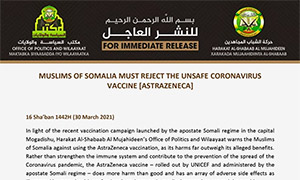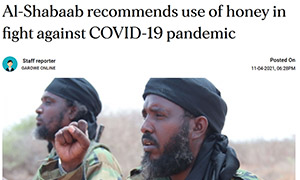 Click to find out more
The pandemic affected changes in communication platforms and channels by extremist actors in the region. In Uganda, for example, the Allied Democratic Force (ADF) started to use Telegram – via its affiliation with Daesh and the group's Amaq media group – to claim responsibility for their actions while continuing to draw on in-person recruitment in Uganda.2 Al-Shabaab used new mediums online to radicalize and recruit due to pandemic restrictions while maintaining in-person contact despite these restrictions. Changes in extremist organizations' use of communication platforms and channels were primarily in Somalia, Tanzania, Kenya, and Ethiopia.
Extremist organizations continued to leverage pandemic-related misinformation in the region, with a particular focus on the nature and efficacy of vaccines, to sow distrust in government entities with the broader aim of replacing those governments. In its disinformation attempts, Al-Shabaab used the pandemic as an opportunity to spread narratives against specific vaccinations while providing alternative suggestions for how East Africans should protect their health.
Yet, the available evidence demonstrates that these efforts by violent extremist organizations yielded minimal success. While some forms of notable recruitment efforts were noted in Kenya, Somalia, Ethiopia, Tanzania, Uganda, and Eritrea, there was little evidence to suggest an increase in recruitment and radicalization.
Uganda experienced only one terrorist incident in the first half of 2021, but at least seven terrorist attacks were reported from October to November. There was also an increase in terrorist attacks in Somalia and Ethiopia in 2021. Meanwhile, Kenya and Tanzania saw fewer attacks in 2021 compared to 2020. Eritrea did not encounter any terrorist attacks in 2021, though it faced threats from locally designated terrorist organizations in Ethiopia originating from the Tigray region.
Policy Recommendations
Governments, civil society organizations, religious institutions, and the private sector (including technology companies) should collaborate on efforts to create tailored counter-narratives and alternative messaging campaigns disseminated by violent extremist organizations in the East and the Horn of Africa, particularly those that spread COVID-19 misinformation and disinformation. This should include campaigns to limit the spread of COVID-19 vaccine misinformation and disinformation.
Governments should work with organizations such as Tech against Terrorism (TaT) and the Global Internet Forum to Counter Terrorism (GIFCT) to improve coordination to limit the spread of terrorist messages online. This may include sharing tools, resources, and best practices to improve enforcement of dangerous content disseminated by violent extremist organizations..
Governments and non-governmental organizations should work together to resolve internal grievances and improve trust in public institutions. Violent extremist organizations may manipulate these grievances and mistrust to polarize communities and recruit individuals to their cause in the context of COVID-19.
Appropriate provision of adequate social and medical services, as well as addressing economic concerns by governments, will likely discourage citizens from supporting violent extremist organizations and non-state armed actors. A whole-of-government and whole-of-society approach is needed to counter violent actors in the East and Horn of Africa. Specifically, increased cooperation and efficient information-sharing between the public sector and civil society is required to ensure the needs of those on the front lines affected by extremist activity are understood and addressed by policymakers– which is even more important in times of public health crisis. Bottom-up and efficient communication between sectors will improve abilities to address grievances that may otherwise lead to radicalization and recruitment.
Footnotes
[1]
C. Ero, 'Africa's Peace and Security: The Pressures of COVID-19,' International Crisis Group (6 May 2021), accessed 20 October 2021
Visit Source
[2]
M. Schwikowski, 'ADF: The group blamed for the bombings in Uganda,' DW Akademie (17 November 2021), accessed 22 April 2022
Visit Source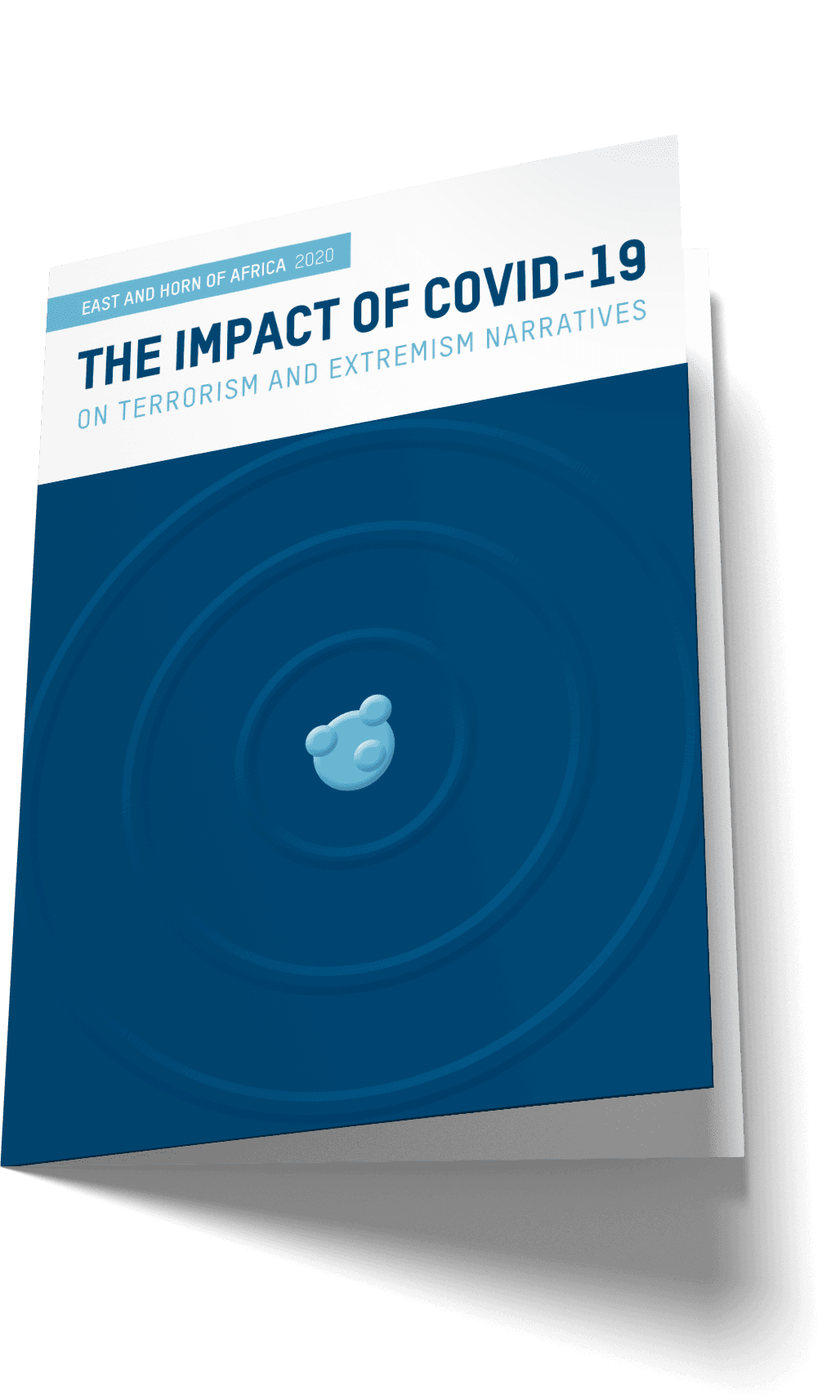 DOWNLOAD
Region reports
For full analysis and recommendations, download the region reports for 2020 and 2021.
2021 report coming soon.