BLOG
The Phenomenon of Foreign Terrorist Fighters in North Macedonia
by Natalija Shikov and Afrodita Musliu
Foreign terrorist fighters (FTF), in other words, people who traveled the battlefields of Iraq and/or Syria and have since returned to European soil, be it voluntarily or involuntarily – as well as the facilitators and recruiters of FTFs – pose a grave threat to society.
Although the North Macedonian legal system imposes significant sanctions concerning these actions, the phenomenon continues to be a security risk. A more comprehensive institutional answer is necessary to terminate or prevent current and future occurrences that can lead to radicalization and violent extremism. For this purpose, national and regional programs tackling deradicalization and rehabilitation, resocialization, and reintegration (RRR) for persons associated with terrorist travel have been devised.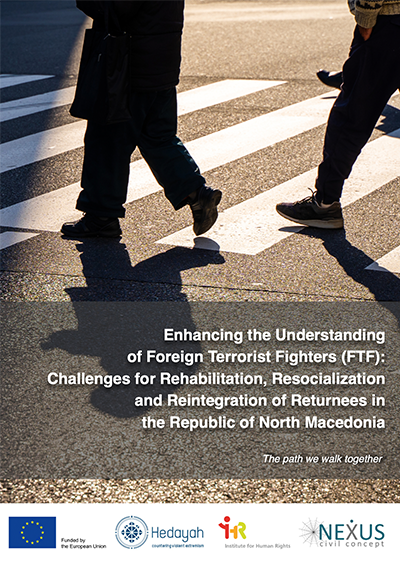 The phenomenon of FTFs has not evaded North Macedonia. Since 2012, around 150 citizens have fled to conflict zones in Syria and Iraq. Of those who fled, 76 have returned, 37 have been killed, and 17 are still in conflict zones. According to the latest EU country Progress Report, North Macedonia has a legislative framework to address the fight against organized crime, one which is largely in line with European standards. It has also made progress in the fight against terrorism, including the prevention and countering of violent extremism. These are aligned with the objectives set out in the Joint Action Plan on Counter-Terrorism for the Western Balkans and the bilateral implementation arrangement, but progress on the anti-terrorism measures needs to continue.
North Macedonia has a National Counterterrorism Strategy (2018-2022), a National Strategy for Combating Violent Extremism (2018-2022), and related action plans. In October 2019, North Macedonia and the EU signed a bilateral implementation arrangement outlining concrete measures to achieve under the Joint Action Plan on Counter-Terrorism. Practitioners also recommend investing in the resocialization of convicted returnees while they are still in detention to decrease the risk of recidivism to violent extremism. In North Macedonia, there is a general notion that the RFTFs and facilitators pose a significant risk to the wider community. However, strengthening the RRR processes is vital to address the needs for overall security.
Hence, a 'whole of society' approach is necessary for providing sustainable solutions to the physical, social, psychological, and economic challenges that RFTFs and their families face. Though the Macedonian National Plan for Reintegration, Resocialization, and Rehabilitation of Returnees from Foreign Armies and Members of their Families was adopted in June 2020, improving the current system of RRR could resolve the high risk of recidivism. Therefore, it is important to implement the relevant RRR practices before the individuals' full sentences are served.
Last year within a period of four months (from September to December 2020), North Macedonia's Ministry of Interior (MoI) and the National Security Agency (NSA) undertook two joint actions that suppressed and apprehended two terrorist groups. During the first action in September 2020, a three-member terrorist group operating inside the territory of North Macedonia was neutralized; and during the second action in December 2020, eight people were detained under suspicion of committing a criminal act of "terrorist organization," and for planning to carry out terrorist attacks against the country's vital infrastructure. In both cases, the arrested perpetrators were RFTFs who finished serving their prison sentences roughly one year before these incidents. It is also important to note that recidivist offenders go back to the same prisons and in more or less the same conditions as before.
According to a 2019-2020 NEXUS's research and the above-mentioned cases on repeated arrests, there is a need to take more serious steps in tackling the issues regarding the resocialization of RFTFs and facilitators. This will prevent further radicalization of the prison population that can endanger the overall security of the nation. Thus, systematic, sustainable, inclusive, and relevant RRR programs for RFTFs are necessarily based on a transparent process involving all relevant stakeholders. Strengthening the institutional capacity could also overcome the currently fragmented approach and provide solid RRR solutions. Additionally, the EU progress report points toward the need for more comprehensive efforts in establishing mechanisms for early identification of radicalization, which will enhance relevant institutional capacities and empower professionals to prevent and counter the signs of radicalization leading to violent extremism and terrorism.
Currently, the RRR processes for RFTFs and their facilitators still have room for improvement in order to tackle many of the real challenges. Devising the existing RRR programs in an adequate way can help adapt the program to this special group of convicts. In this regard, it is necessary to strengthen the institutional capacity, especially increasing the number of staff and providing them with concrete training so that they are able to approach this sensitive issue effectively.
From an institutional point of view, it is advised to prevent fragmentation of the approach and to act in coordination with all relevant social actors such as FTFs' families, municipalities they live in, originate from or will return to, religious communities, centers for social work, the private sector, etc. Although a number of steps are taken towards reaching standards for resocialization of foreign terrorist returnees in North Macedonia, strengthening them could address the challenges that society continues to face. The undertaken measures, such as the recently promoted National RRR Plan for RFTFs and their families, could allow for public scrutiny in order to reach all the relevant actors. Considering the notion that the civil sector enjoys a significant level of trust among the local communities (in comparison to the Government), it should partner with the state institutions in addressing these challenges.
Nevertheless, the need for repatriation, rehabilitation, and reintegration of FTFs, while including their families in the solution, is in the Government's focus. In August 2018, the Government successfully repatriated seven North Macedonian citizens from the Syrian Democratic Forces custody. All of them were indicted under the North Macedonia Criminal Code, which criminalizes membership and participation in a terrorist organization. In February 2020, one foreign terrorist fighter was deported from Turkey, and charges were pressed against him for participation in a foreign army, police, and/or paramilitary formation. In March 2020, a woman and her two children were repatriated from a refugee camp in Turkey.
Just recently, the Government completed the process of repatriation of Macedonian citizens from Syria and Iraq for four men – foreign terrorist fighters, five women, and 14 children. All measures and activities undertaken by the institutions are based on the obligations arising from the National Plan and the procedures for reintegration, resocialization, and rehabilitation of returnees from foreign armies and members of their families. This is in accordance with Macedonia's obligations arising from international law, international human rights law, international humanitarian law, standards, and UN Security Council resolutions.
Additionally, these efforts are in direct line with North Macedonia's prospects for EU accession. In the process of waiting for the opening of negotiations, opening the fundamentals will be among the first and the last to be closed. The cooperation in the area of freedom, security, and justice (AFSJ) as part of Chapter 24 of the EU Acquis is the fastest developing EU policy designed to ensure security, protection of rights, and freedom of movement within the EU. These policies were cemented to aid the establishment of the common market and to further account for security threats that transcend national borders. Police cooperation, in addition to judicial cooperation in civil and criminal matters, is central to the entire AFSJ approach since the related policies reflect the functioning of the rule of law, border control, fight against organized crime, and other key areas.
At the European level, some programs provide relevant financial and technical assistance in that respect. These programs, based on defined priorities, give directions and plans with precisely defined implementation deadlines. North Macedonia is actively participating in the implementation of counter-terrorism initiatives and receives financial assistance through the Instrument for Pre–Accession (IPA). However, providing sufficient capacity for the administration in North Macedonia is necessary to enable the political system to respond efficiently and effectively to the related requirements – among them the fight against organized crime. Therefore, it is unequivocally clear that improving institutional steps is important to reach effective standards and to prevent recidivism from happening. As necessary preconditions for addressing the above-mentioned challenges, some of these improvements include the training of staff and availability of appropriate technical equipment.
About Hedayah's Blog Series
Hedayah publishes a blog series covering a range of different topics related to counter violent extremism (CVE). These blogs highlight the latest trends and challenges faced by the CVE world and highlight topics that receive less attention in the international CVE space with a unique perspective.
The authors of the blog posts are Hedayah's staff, Hedayah's Fellows, and guest experts. The opinions expressed in the blogs are their own and not representative of Hedayah. We hope that these blogs will contribute to the conversation around CVE solutions, and push forward the quest for more research and innovation in the field.